Update Your Looker Data Source
If you have existing Looker Studio reports that use your GA4 data, you may need to update your Looker data source to see all the dimensions and metrics you need. This short guide shows you how.
How to Refresh Looker Data Source
First, head on over to lookerstudio.google.com and open an existing report that uses your GA4 data.
Now, click into the data in your chart and you'll see a menu available on the right hand side of the screen. Click on the pencil icon immediately next to your GA4 data source.
Like this.
Now, click "Refresh Fields" which will appear below your list of dimensions. Just like this.
You'll see a list of all fields that are to be added, removed, and changed. You can see an example below with a large number of new fields, along with a limited number of fields that are to be removed or will be changed.
Click "Apply."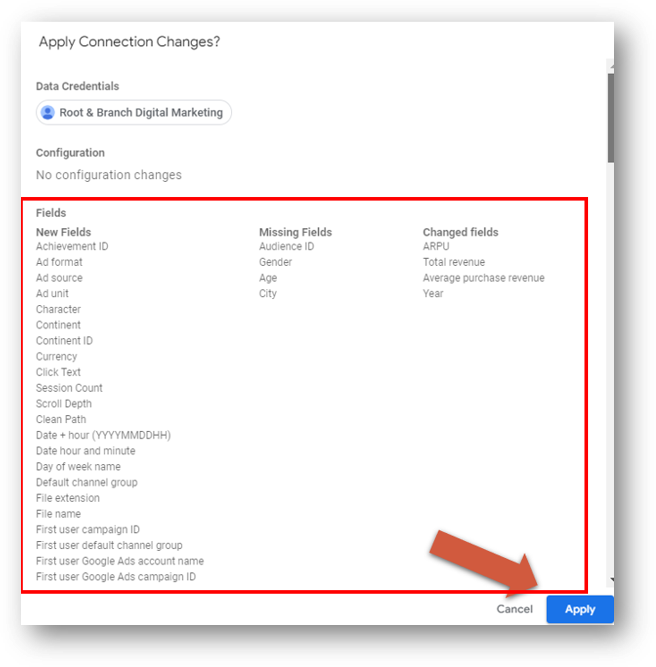 Congratulations. You've now updated your Looker Studio data connection. You're all done. Although you can read on below if you want to know exactly what you've changed and when you'll need to do this.
But first, a quick note about an alternate approach.
Another Way to Update Your GA4 Connection to Looker
From your Looker report, click on the "Resource" menu. Then click "Manage added data sources."
You'll see a list of all the data sources that are connected to your report. Click "Edit" on the data source you want to update. Like this.
You'll now be able to refresh your fields and apply as before.
When Do You Need to Update Your Looker Data Connection?
There are two times you'll need to update your looker data connection.
When You've Created New Custom Dimensions
If you've created new GA4 custom dimensions you'll need to refresh your connection in Looker in order to see those custom dimensions.
Here's an example below. As you can see in the yellow box, we have created two new custom dimensions (Scroll Depth and Session Count) based on two event parameters (scroll_depth and ga_session_number). Registering these custom dimensions allows us to use these event parameters in our GA4 standard reports and Explorations. However, they won't automatically be available in Looker unless we update the data source.
As you can see below, our two new custom dimensions are two of the new fields that will be pulled into Looker when we update the connection.
When You've Created New Event Conversions
Creating conversions in GA4 is as simple as moving a toggle switch on your most important events so they can be counted as conversions. Each conversion has three separate metrics:
Conversions count
Session conversion rate
User conversion rate
If you want to see these conversion metrics for your new conversions in Looker, you'll need to update your data connection.
Here's an example below for three new conversions related to tracking for signups for the monthly Root and Branch email newsletter.
What Specifically Changes When the Data Source is Updated?
There are 7 specific things that change when a Looker Data Source gets an update. You can read the Google support article, or check out the screenshot below from the same place.
This is a permanent change.
Other Looker Resources
Hey, you're still here! Thanks for sticking with this to the end. Since you're a Looker fan, you might be interested in this short explainer about dealing with GA4 quota limits in Looker.
And if you're working with both GA4 and Looker, here's a link to a video tutorial that shows you how to build a report showing your scroll depth data.
Here's the video link. Have fun!
Two other options:
Check out more of the videos on the Root and Branch YouTube channel.
Head on over to the R&B blog for more resources on analytics and SEO.
Thanks for coming by!
https://www.rootandbranchgroup.com/wp-content/uploads/2023/09/600-x-350-refresh-data-source-in-looker.png
350
600
Zack Duncan
https://www.rootandbranchgroup.com/wp-content/uploads/2018/06/Black_GLeaf_2-300x248.png
Zack Duncan
2023-10-03 08:00:00
2023-11-07 12:49:28
Update Your Looker Data Source