GA4 Sessions: How session_start Works
The session_start event is one of three automatically collected events in GA4. Google Analytics collects session_start every time a new session (a new visit) begins on your site. The event counts total sessions.
Not only can you use the session start event to keep tabs on your total site visits, but you can use the event to create segments and audiences from your users.
Session Start and Automatically Collected Events
Automatically collected events are triggered by basic interactions on your site. You don't need to turn them on or do anything to create them. In fact, you can't turn off automatically collected events even if you wanted to.
There are three automatically collected events:
session_start event
first_visit event
user_engagement event
We're going to focus on sessions (via the session_start event) in this guide. Read on, or you can click to watch the video tutorial on YouTube if you prefer.
GA4 Session Start Event
When a visitor comes to a website that has Google Analytics installed, Google Analytics will automatically fire a session_start event. It seems pretty basic, but it's actually a pretty powerful event based on a particular event parameter that gets created along with the event.
You can find the session_start event in you Events report within your collection of GA4 reports.
It looks like this.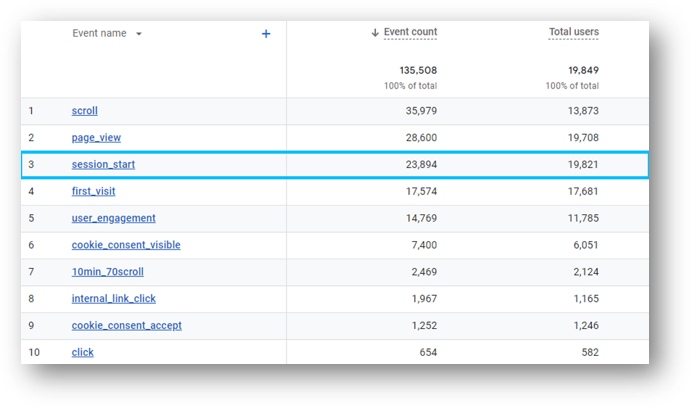 What is the Difference Between a Session and an Event in GA4?
A session is another name for a visit to a website. An event in GA4 is a specific interaction that takes place during the session. There can be (and usually are!) multiple events that take during a single session. Some other examples of events are viewed pages (page_view event), scroll activity (scroll event), and file downloads (file_download event).
Each of those events are associated with the same session (session_start event) through something called the ga_session_id.
Let's review.
What is GA4 Session ID?
The GA4 session ID (ga_session_id) is something called an "event parameter". A parameter is data that adds more context to your GA4 events. This particular parameter shows a timestamp of when the visitor arrived at the site and the session began. The session ID is automatically associated with every event that takes place during the session through the Google Analytics tag.
Here's Google's support article for more on GA4 sessions. If you want to poke around, you can find the session ID within the _ga cookie on your site.
There is another important event parameter that gets created along with ga_session_id. It is the GA4 session number.
What is GA4 Session Number?
The GA4 session number (ga_session_number) counts how many sessions a user has had on your site. The first time a user visits, the ga_session_number will be "1". The second time the same user visits the _ga cookie will recognize them as a returning user on their second visit and the ga_session_number will be "2". And so and and so forth.
You can user ga_session_number to create audience segments so you can learn more about how your audience interacts with your site. The Explorations. Here's what that looks like.
First, go to "Explore" from the left-hand navigation to access Explorations.
Then, click the "+" icon next to "Segments" to create a new segment.
You can create a User segment or a Session segment, depending on your goals. Let's create a Session segment. Like this.
Now, build your session segment. Here's how you'd do it if you want to create a segment of all your sessions that were the first visits from your users.
As you can see in the red box, the session number (ga_session_number) exactly matches "1". Check out the arrow in the bottom right to see a preview of how many users will be in your segment.
And here's how you could build a segment based on all the second visits from your users in GA4.
Note: If and when the visitor deletes cookies on their browser, they will no longer be recognized as a returning user.
Creating a Custom Dimension With GA4 Session Number
You can also use the ga_session_number event parameter to create a custom dimension that you can use in your GA4 reports.
To do that, go to the Admin panel and then click "Custom definitions" within the property settings to create a new custom dimension from this event parameter.
Click the blue "Create custom dimension button" and you'll see something like this.
Note: See the warning message in the yellow bar. We don't need to be concerned here for ga_session_number since it won't create a high number of unique values. However, creating a custom dimension based on the ga_session_id parameter would be a bad idea as it would create a high number of unique values and cause issues with reporting. This would be a "high-cardinality dimension" according to GA4 (any dimension with more than 500 unique values in a day), and would cause data issues in your reports. 
Then, fill out your custom dimension. The "Dimension name" field is what will show up in your reports. The "Description" is only for your internal record keeping. The Event parameter must be typed exactly as you see it below. It should be available in the drop down menu.
Then, click "Save". You're all done.
What is the Difference Between a GA4 Session and a GA4 Engaged Session?
Sessions count the total number of visits to your website. Engaged sessions count the total number of visits that meet a specific threshold of user engagement.
An engaged session meets one or more of the following critiera:
The session has multiple page_view events.
The session has one or more conversions.
The session lasts for 10 seconds or more.
Comparing the number of engaged sessions to the total number of sessions yields the GA4 engagement rate.
Wrapping Up
I hope you feel more confident about understanding GA4 sessions after making it all the way to this point. If you think we missed something useful, please let us know.
Looking for something else? Check out the Root and Branch YouTube channel at youtube.com/@rooted-digital. Or sign up for the monthly newsletter so you can get a free roundup of the best new posts and video tutorials, along with relevant industry news.
About Root & Branch
You can learn more about Root & Branch here. Or hit the button below to check out YouTube for more digital marketing tips and training resources.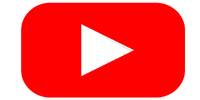 https://www.rootandbranchgroup.com/wp-content/uploads/2023/09/600-x-350-session-start-event.png
350
600
Zack Duncan
https://www.rootandbranchgroup.com/wp-content/uploads/2018/06/Black_GLeaf_2-300x248.png
Zack Duncan
2023-09-19 08:00:00
2023-09-12 04:59:41
GA4 Sessions: How session_start Works